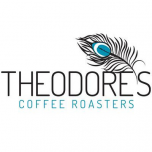 Sweet and tropical notes, caramel covered apples, lime, pink lemonade acidity and long smooth finish
Notes from the curator
Finca El Injerto is undoubtedly one of the most prestigious coffee farms in the world. The Aguirre Family has been farming coffee on this beautiful site in the Guatemalan highlands of Huehuetenango since 1900. Third and Fourth generation farmers Arturo Aguirre Sr. and his son Arturo Aguirre Jr. have elevated the farm to new heights. The have won the Gold Medal in the Guatemalan Cup of Excellence 8 times and an additional 13 Top Five medals since 2003.
More about Theodore's Coffee
Theodore's is sourced through direct trade, a result of Theodore's founder Darwin Pavon's relationship with farmers throughout Central America and, more recently, Africa. Through direct trade, Theodore's ensures that their farmers are paid a fair amount for their coffee and support Micah Project.
Read more...

Not dark.
I was surprised to see a coffee from Central America listed as a dark roast. Coffee from this region of the world is not dark, which was only confirmed after drinking the first cup. Very light / medium bodied. fantastic hue hue
This is my favorite coffee in the market. Been looking for a fantastic hue hue for a long time now. Finally found it. To be clear, I'm not an aficionado or expert. In other words, I'm demanding but not fancy, meaning I really just want to think: wow, this is a good cup of coffee. (The notes here really do please, though. Coffee, Americano, and espressos are all great.)