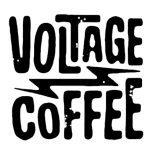 Paydirt is a dark roast that everyone can enjoy; roasted longer to minimize acidity while increasing body & sweetness.
More about Voltage Coffee Project
We collaborate with farmers, roast coffee, and open unique concepts — all with the sole focus of creating community.
Read more...

no my style
Sweet, fruity has a sour edge to me. That's just me. It does remind me of Dutch Bros so if you like their coffee, you will like this.