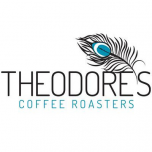 Caramel, fruity, red apples, floral notes with sweet peach with delicate acidity and velvety body
Notes from the curator
Victor has been involved in coffee since he was 10 years old, and grew up helping his dad and brother on the family farm. At 28, he took over the family business, and now at 38, his passion for coffee only increases. Together with his oldest son, Victor has been working to change the management and varieties at La Fraternidad. This is the last year that Victor will be growing this pacamara variety, as he is renewing the plantation with bourbon and geisha varieties.
More about Theodore's Coffee
Theodore's is sourced through direct trade, a result of Theodore's founder Darwin Pavon's relationship with farmers throughout Central America and, more recently, Africa. Through direct trade, Theodore's ensures that their farmers are paid a fair amount for their coffee and support Micah Project.
Read more...
No Customer Reviews
Be the first to write a review.